Sale!
NITROvit™ Nootropic Super Vitamin
$55.00 – $219.00
From $36.50 per bottle
($1.17 Per Daily Serving)
Description
With Unlimited Motivation, Productivity, Focus, and Energy – Your Potential Is Limitless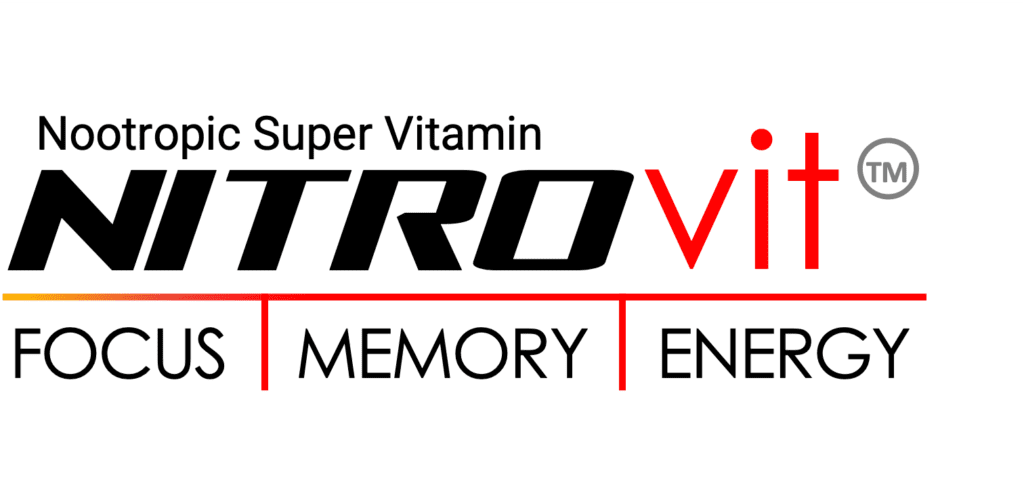 If you've lost the Energy, Focus, and Drive you once had and now find the day-to-day exhausting, anxiety filled, stressful, and unproductive – there is a solution…
Packing neurotransmitter-supporting Nootropic ingredients, NITROvit™ shifts you into a state of Focus, with boundless Mental and Physical Energy, all whilst aiding long-term Memory and brain health.
Since 2014, NITROvit™ has been the ace up the sleeve of high performers and driven, brilliant individuals just like you, determined to finally get things done and meet their true potential.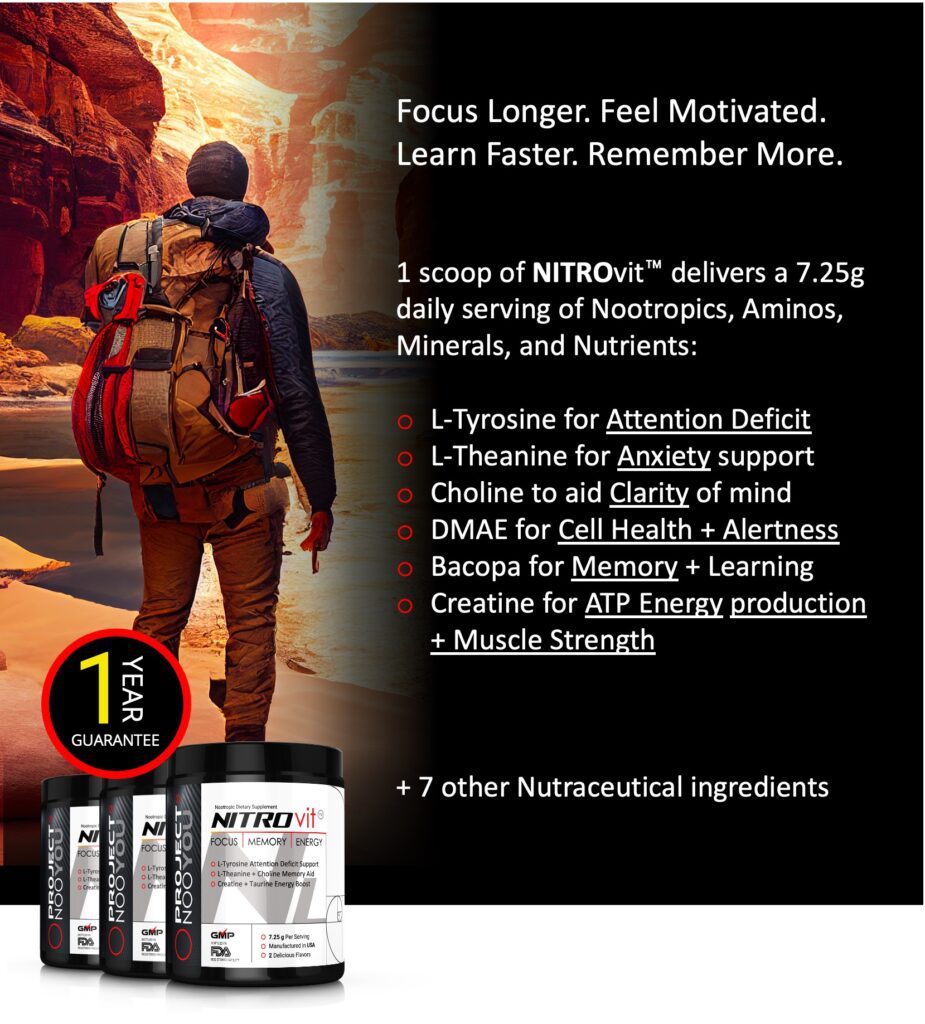 The Benefits You Can Expect From Taking NITROvit™
Since 2014, NITROvit™ has been available in capsule format only. This year however we decided to take it to the next level.
NITROvit™  now comes in a powder format available in two delicious flavors delivering 7,250 mg per serving – compared to the original 1,742 mg. The results are staggering.
Simply mix with water to provide all day focus, energy, and memory function support, and excel in the following situations:
Long-term results come with 60-days + use. See below for science behind NITROvit™.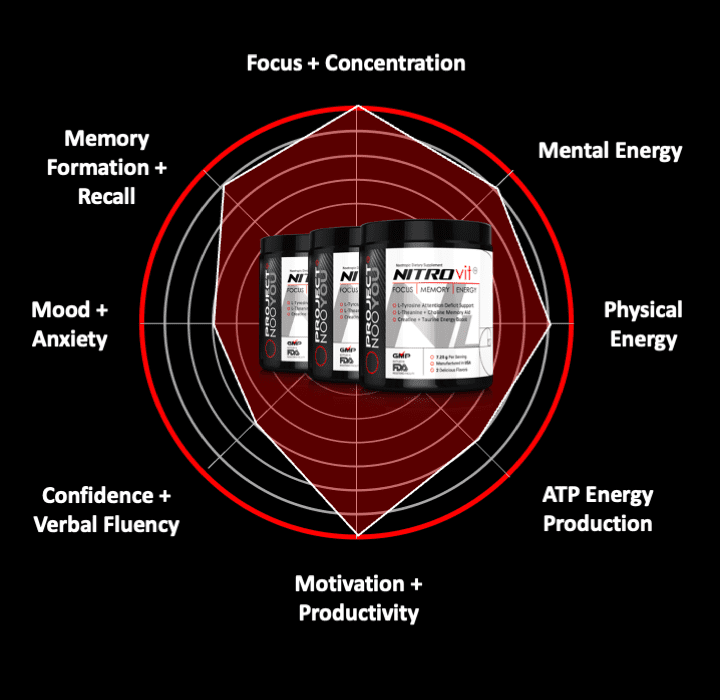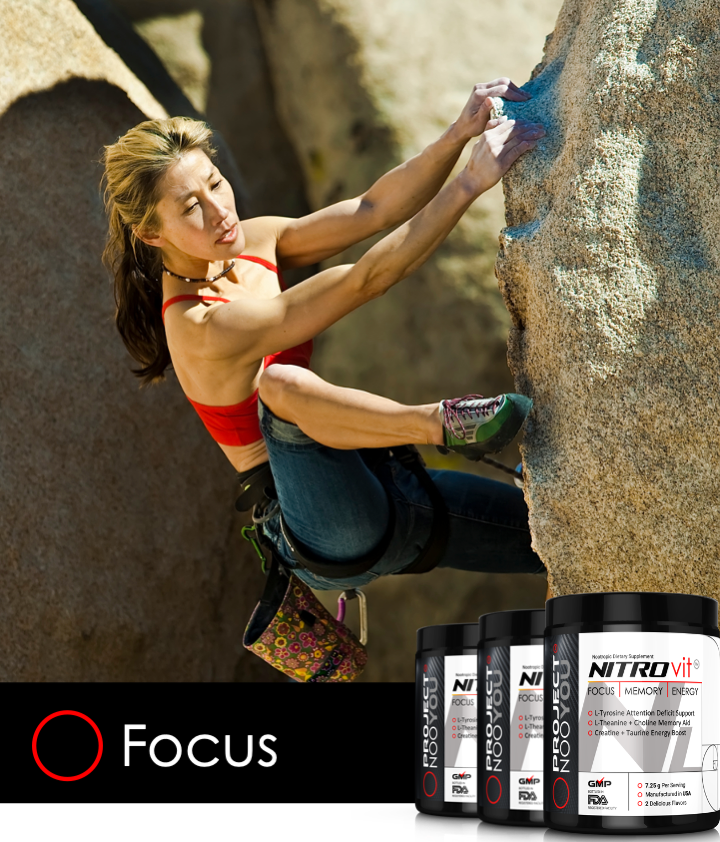 Ward Off Attention Issues And Stay Focused With Nootropics
Attention deficit issues are the result of your brain failing to make adequate Dopamine – the 'reward' neurotransmitter (chemical) that powers our ability to stay engaged and focus.
Your brain therefore seeks external sources to distract and reward it.
The L-Tyrosine and L-Taurine in NITROvit™ stimulate Dopamine production, finally leaving you calm, focused, and productive.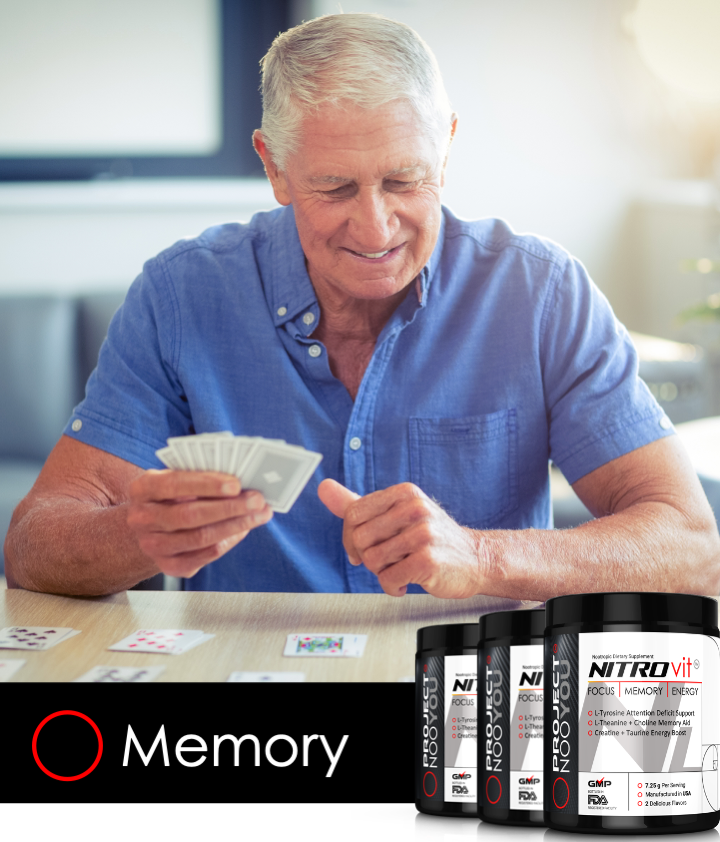 Improve Verbal Fluency, And Memory Formation And Recall
NITROvit™ contains Bacopa Monnieri, L-Theanine, and Choline.
These Nootropics stimulate Acetylcholine production – the brain chemical responsible for learning and for stronger memory formation and recall.
This makes NITROvit™  perfect for remembering names during conversations, to learning new skills, or recalling learned information during exams or presentations.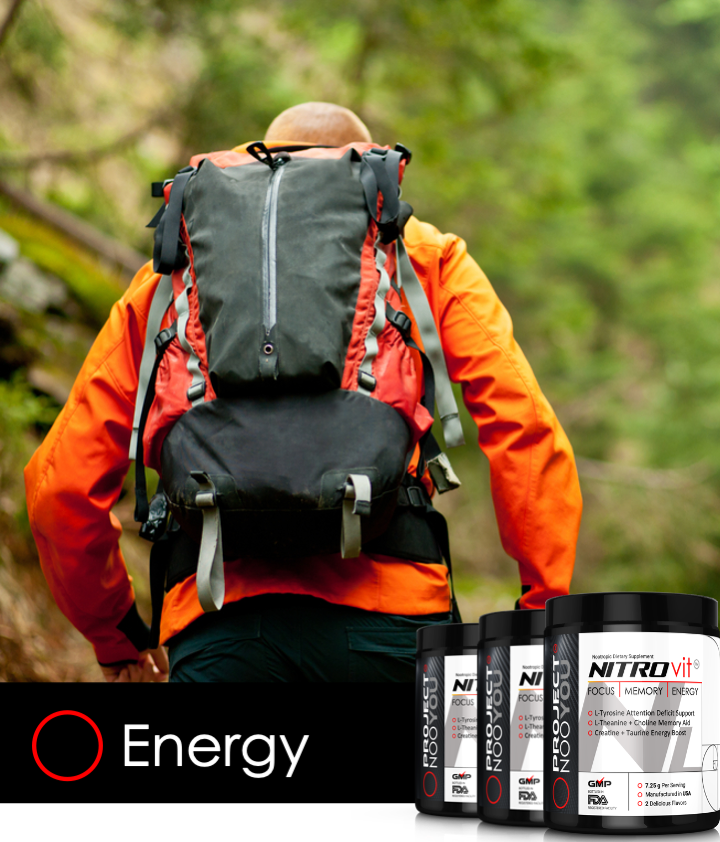 Power ATP Energy Production To Alleviate Physical Exhaustion
NITROvit™ features 2,000 mg of Creatine Monohydrate for improved Adenosine Triphosphate (ATP) production – the fuel source used to power our cognition and physical performance. This is paired with L-Citrulline for improved blood flow to the muscle cells.
Whether it be an exhausting day, or a  grueling workout – NITROvit™ increases blood and oxygen to the brain and muscle cells fast – for optimal physical power and mental energy when it matters most.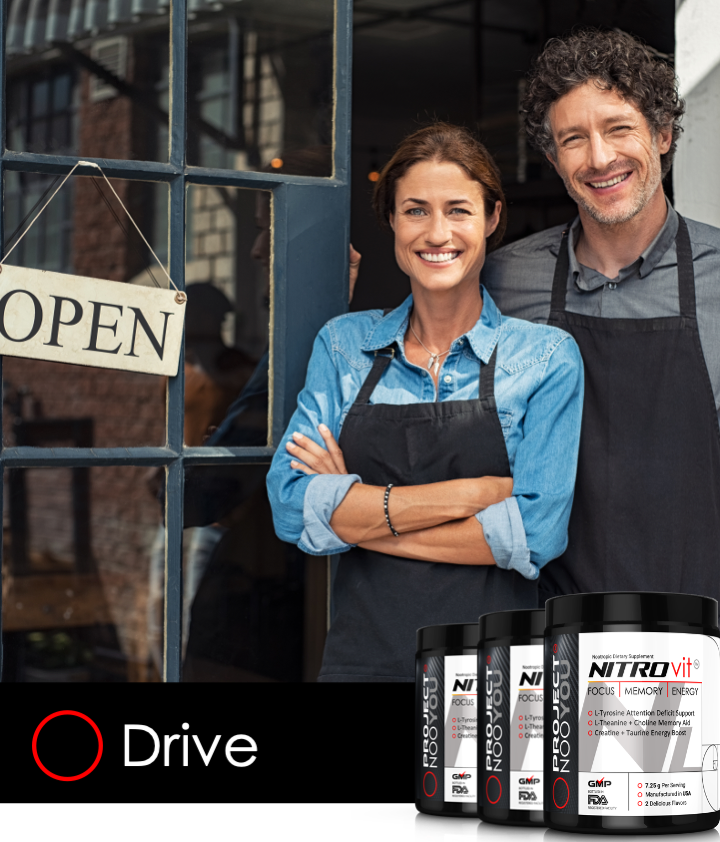 Increase Motivation And Drive By Lowering Inflammation
Studies show inflammation is often responsible for lack of motivation, due to the body disrupting the dopamine system to conserve and redirect energy for healing.
If your immune system has recently fought infection, or you eat poorly or  fail to exercise, NITROvit™ can boost drive thanks to its nootropic formula optimizing dopamine production and lowering inflammation.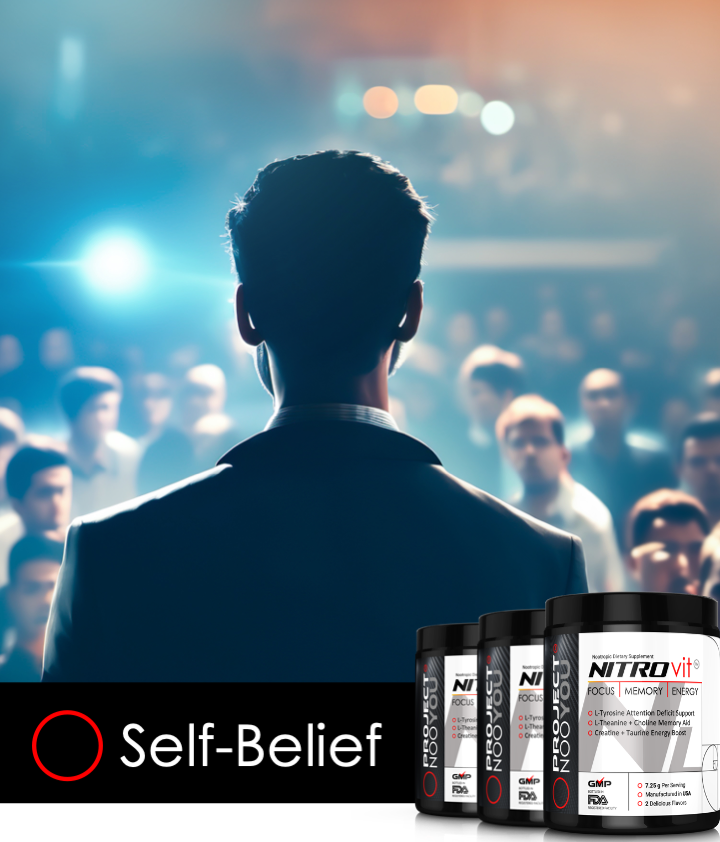 Lower Anxiety And Increase Confidence And Self-belief
NITROvit™ contains L-Theanine and Bacopa Monnieri, and vitamins B6 and B12 – all of which have anxiolytic properties that reduce anxiety and calm the nervous system.
Whether you suffer from panic, stress, or social anxiety, NITROvit™ regulates cortisol levels and promotes a relaxed state for improved confidence and self-belief.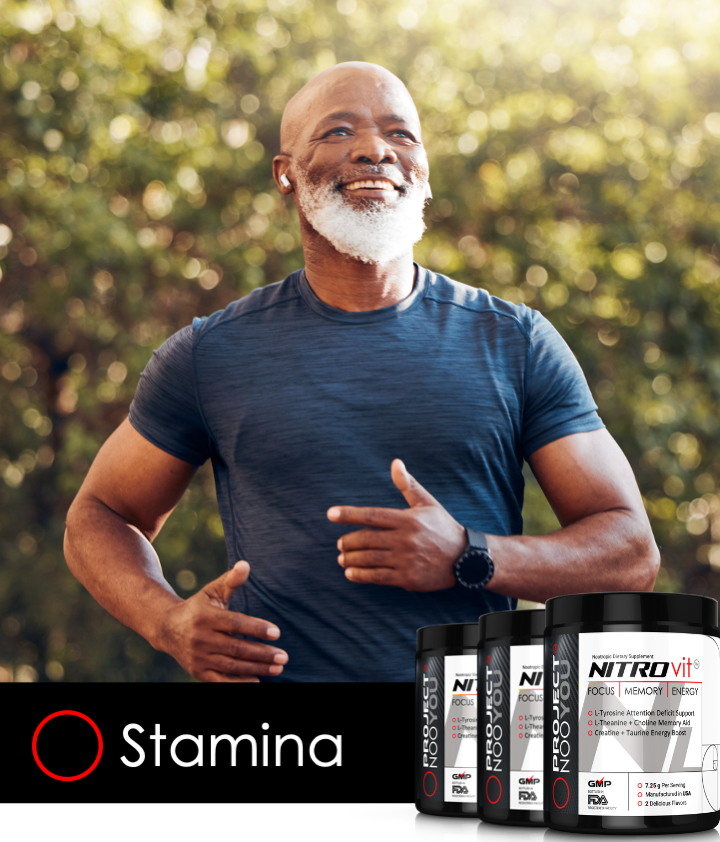 Boost Nitric Oxide Levels To Increase Strength And Stamina
Along with lowering inflammation based joint pain, NITROvit™ delivers 2,000 mg of L-Citrulline to boost Nitric Oxide (NO) levels.
Increased Nitric Oxide lowers lactic acid build up – the root cause of muscle soreness and fatigue.
Increased NO contributes to increased stamina and athletic performance for those on the go.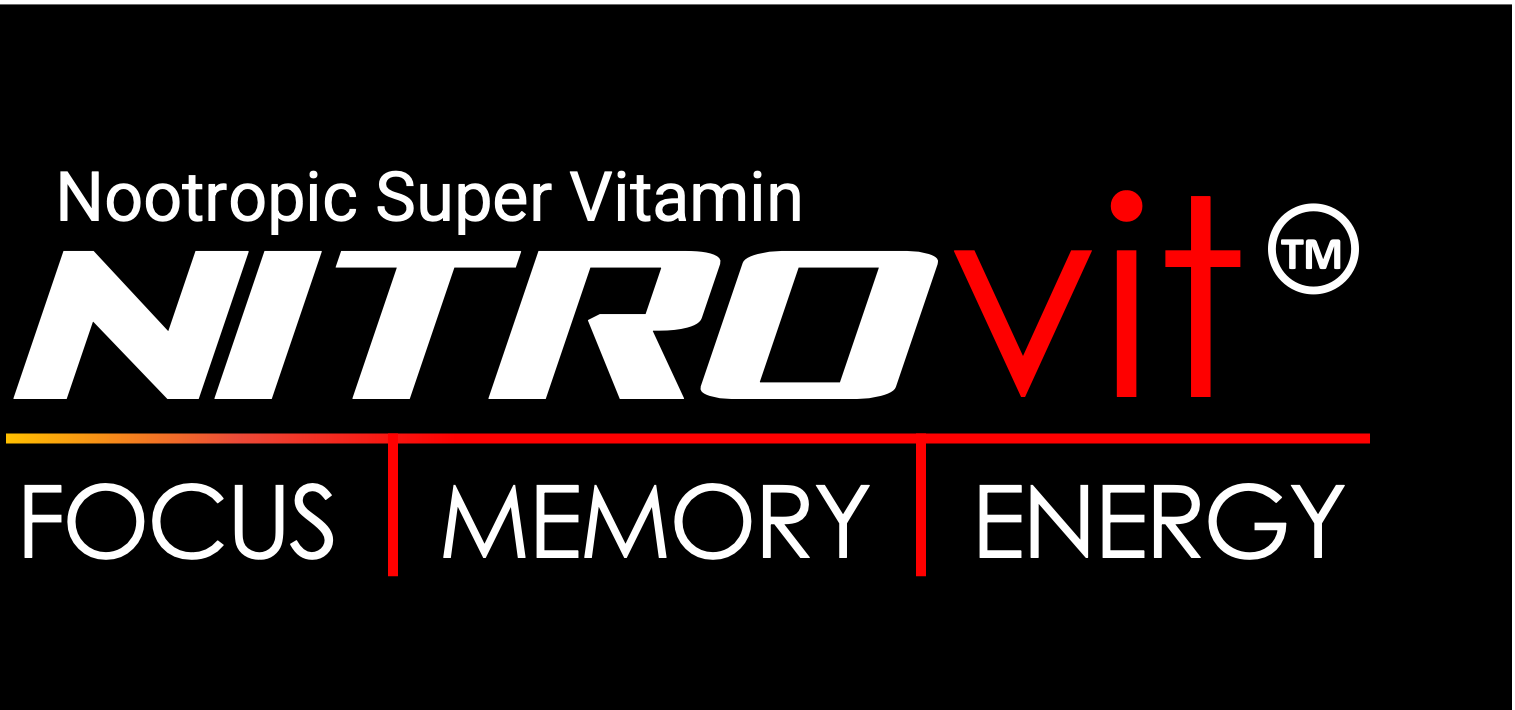 Unlike the many other Cognitive Enhancement supplements on the market today, NITROvit™  is the first to incorporate ingredients that also enhance physical performance and promote longevity and inner health at a cellular level.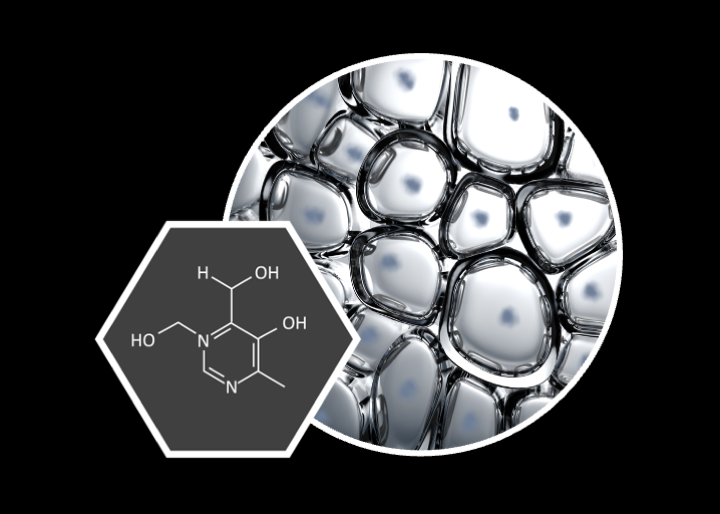 Before enhancing both mental and physical performance, the NITROvit™ Vitamin Stack delivers essential nutrients to provide a solid foundation and baseline for lasting future health improvements.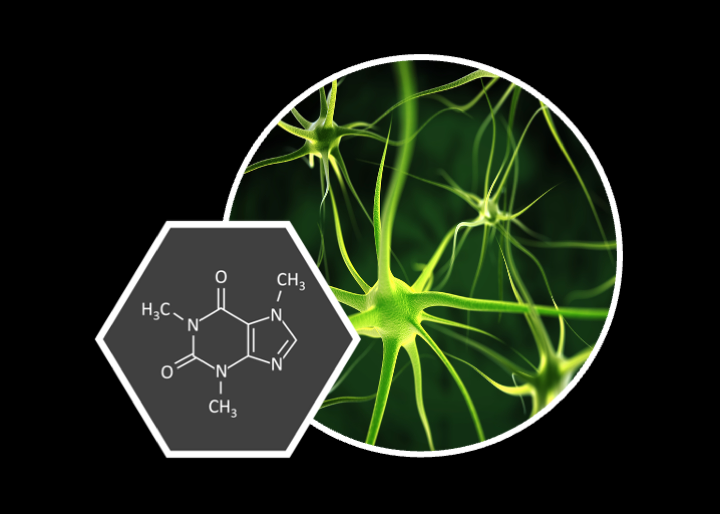 Packing a total of 8 key Nootropics, NITROvit™ is perfect for those both new to the world of cognitive enhancement, and those seasoned in their benefits and looking to take their mental acuity to the next level.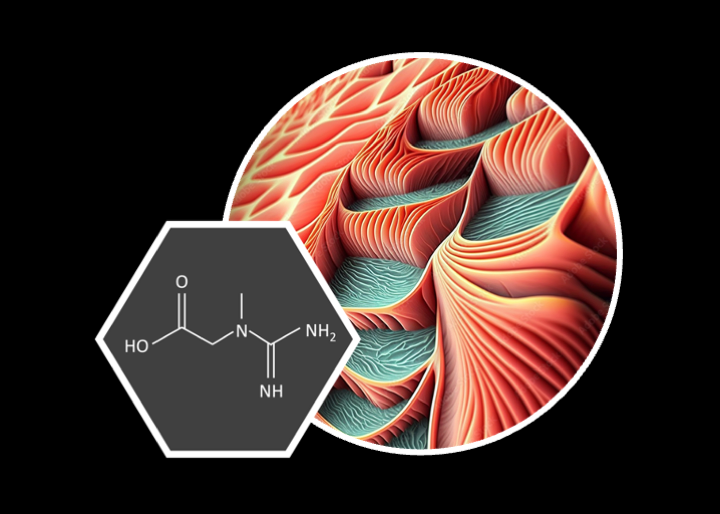 At Project Noo You™ we understand that mobility and the subsequent oxygenation of the cells is essential for total human optimisation. NITROvit™ features 2,000 mg of Aminos to tackle the task.
Free Rapid Domestic (USA) Shipping On Orders Over $99
Stop Saying 'One Day' And Start Saying 'Day One'!
Come join the hundreds of thousands of clients who've come to rely on NITROvit™ since 2014. So confident are we in its results, your purchase today is 100% risk free with our 1-Year Money-Back Guarantee.
Buy NITROvit™ now and get ready to meet a version of yourself you'd wished you'd discovered sooner.
NITROvit™ 6 Month
6 tub Family Pack
FREE US SHIPPING
6 tubs Nootropic powder
Retail: $330.00
You Save: $111.00
Now: $219.00
$36.50 per bottle
($1.17 Per Daily Serving)

NITROvit™ 3 Month
3 tub Quarter Pack
FREE US SHIPPING
3 tubs Nootropic powder
Retail: $165.00
You Save: $46.00
Now: $119.00
$39.67 per bottle
($1.28 Per Daily Serving)

NITROvit™ 30 Day
1 tub Starter Pack
Shipping from: $6.97
1 tub Nootropic powder
Retail: $55.00
You Save: NA
Now: $55.00
$55.00 per bottle
($1.77 Per Daily Serving)

Perfect for Homeworkers or Students Needing Results
"All I can say is wow and thank you. I passed my PCAT exam on Nitrovit and I shall never live without it! I am in debt to you guys!"
Alex Henry
(Newly qualified Pharmacist)
Find The Focus And Drive To Make Your Dreams Reality
"Nitrovit has given me the energy and focus to start my own company and leave a job I hated. It is a great product. Cheers!"
Dennis L. Guy Jr.
(CEO First Sip Brew Box)
Live Life To The Fullest, No Matter Your Age.
"After just months names were no longer escaping my memory. Today my memory at 83 is as good as it ever was in my 40s."
Fin Eversole
(Lecturer and 4 x Author)
The Benefits You Can Expect From Taking NITROvit™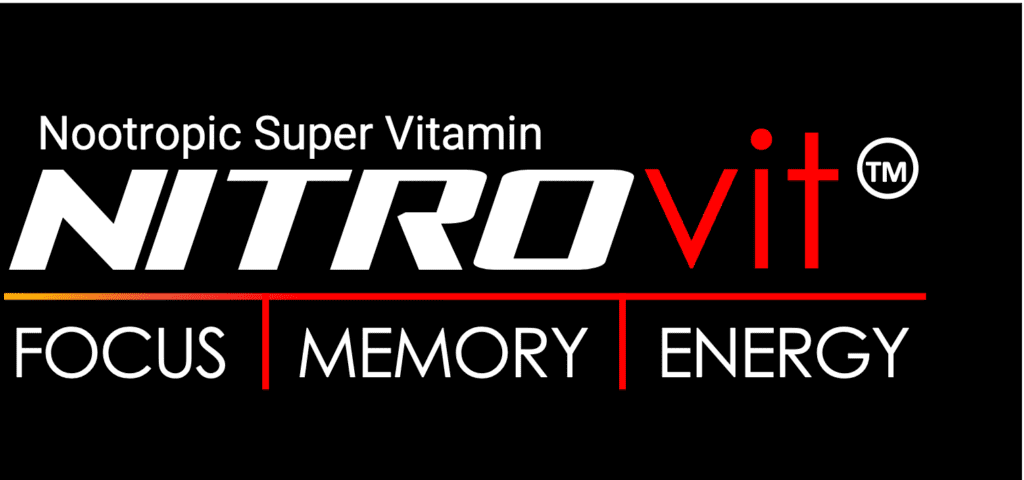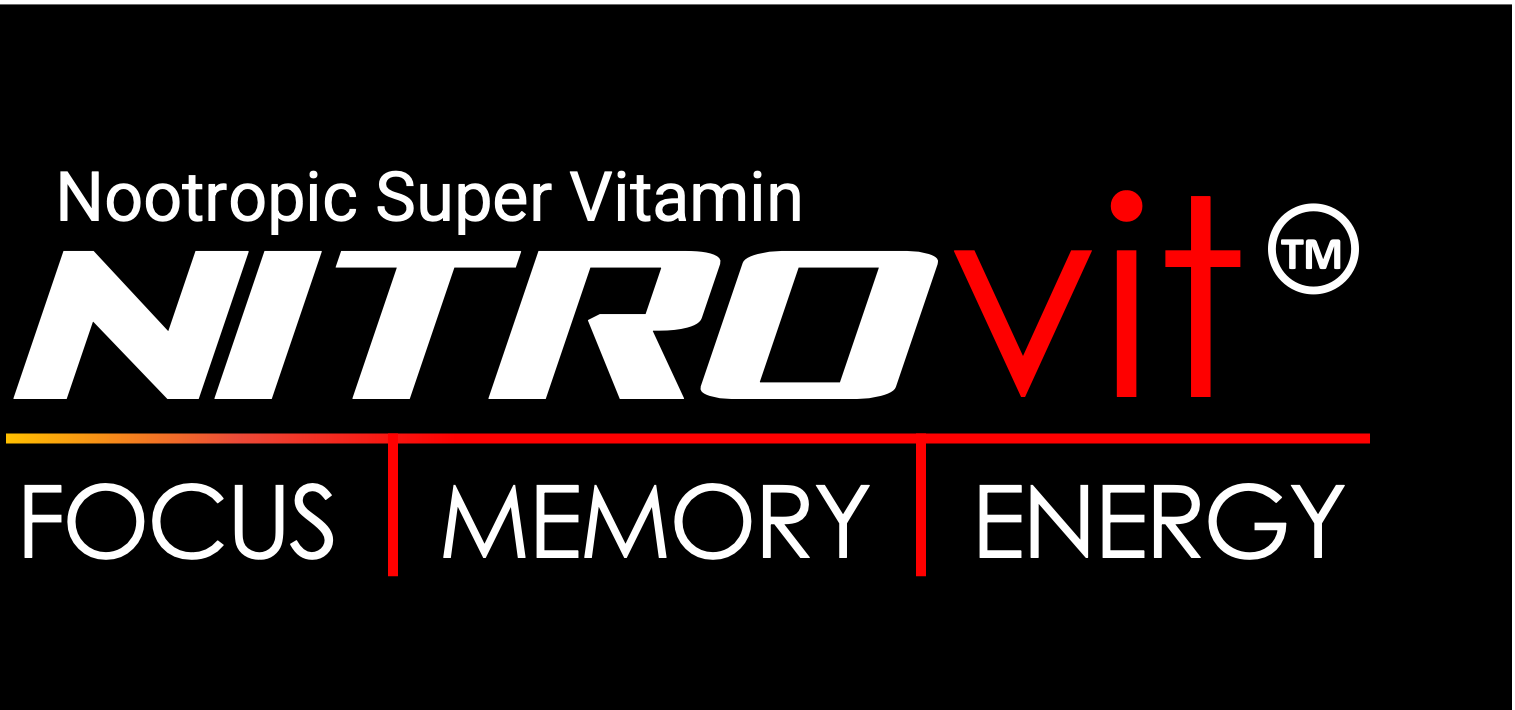 The NITROvit™ formula and its 8 choice Nootropics offer more than just instant improvements to Attention Deficit, Memory Recall, and Mental and Physical Energy levels…
Continued use of NITROvit™ returns long-term benefits to those seeking complete physical and cognitive longevity support in one convenient daily serving.
At less than $1.17per day (6 bottle pack), NITROvit™  is the BEST health insurance plan money can buy – Guaranteed!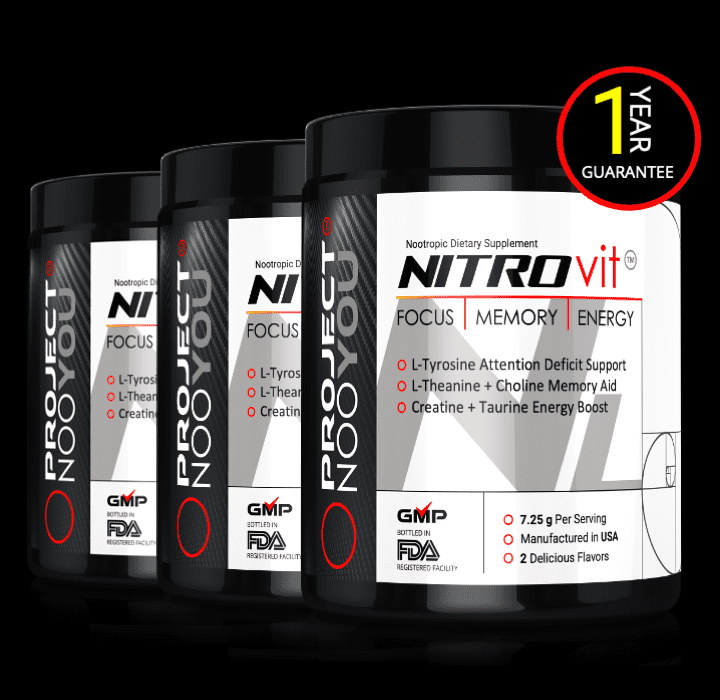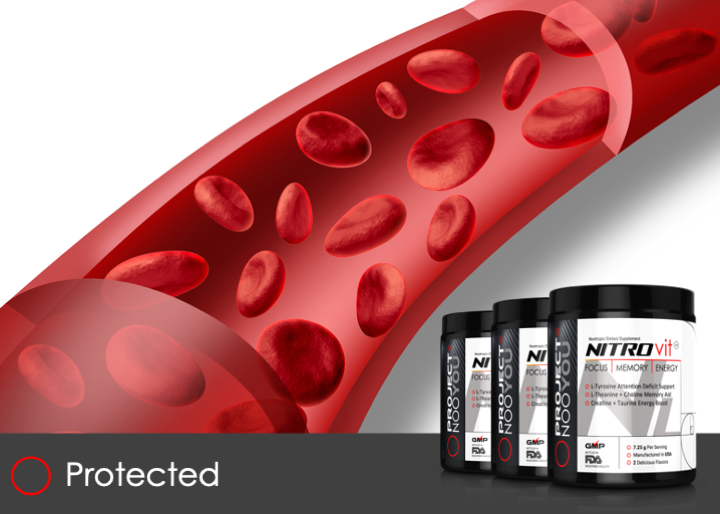 1.

Aminos and Antioxidants protect the brain from Free Radicals, Oxidisation, and Toxins
NITROvit™ contains powerful antioxidants that act as 'cellular cleaners', providing defence against free radicals,  neurotoxicity, and oxidative damage that attacks the DNA and proteins needed for our cells to function properly.
It also contains L-Citrulline – an amino that boosts blood flow and nitric oxide levels, both of which can increase clarity of mind, improve physical endurance and stamina, and lower inflammation.
Inflammation is a known cause of weight gain, joint pain and poor mobility, and brain fog and focus issues.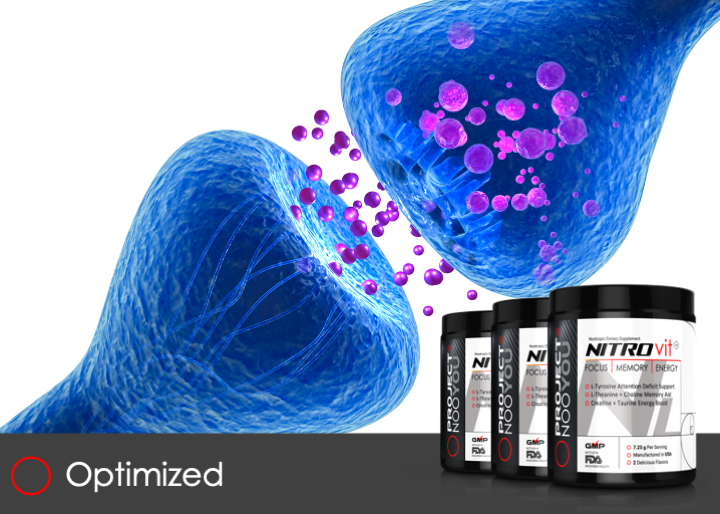 2.

The Nootropics in NITROvit™ aid our Neurons for a sharper, faster brain
The brain houses billions of neurons that require Neurotransmitters (brain chemicals) to fire the electrical impulses that power our cognitive functions.
These functions include our ability to remember and recall memories, to process information during conversations, or to feel focused or motivated to work.
The Nootropic ingredients in NITROvit™  support balanced Neurotransmitter production – allowing the neurons to perform their various functions optimally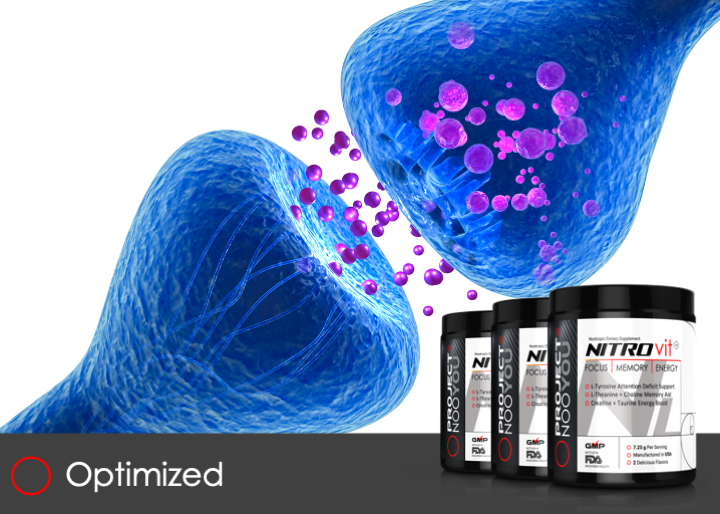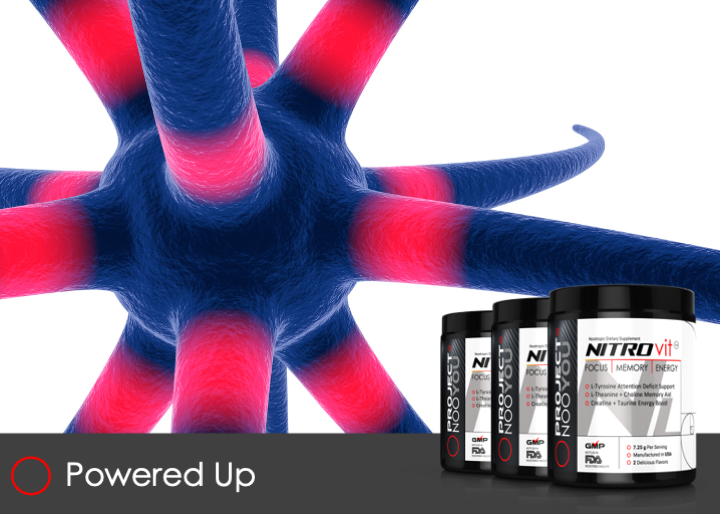 3.

Trigger brain processes to boost Mitochondria and ATP energy
The brain operates at optimum when full of blood, with the cells carrying the oxygen needed by the mitochondria to produce a chemical energy known as Adenosine Triphosphate (ATP) which powers our brains and bodies various functions.
NITROvit™  increases blood flow and nutrient delivery to the cerebral regions thanks to its ability to dilate and relax the brains blood vessels.
The increased production of ATP results in less fatigue, leaving you feeling alert, awake, and clear minded, and the prevention of cell damage.
The NITROvit™ formula And How To Use
The industry standard of 2 – 3 capsules per serving holds a maximum of 1,800 mg of ingredients. The NITROvit™ powdered drink format delivers 7,500 mg for the ultimate in performance and value.
Simply stir 1 scoop with 6 – 8 ounces of cold water and consume 30 – 45 minutes prior to beginning any mental or physical activity.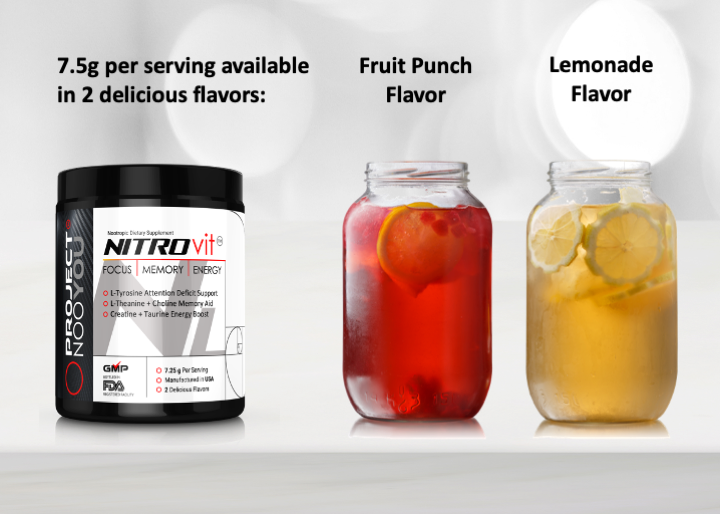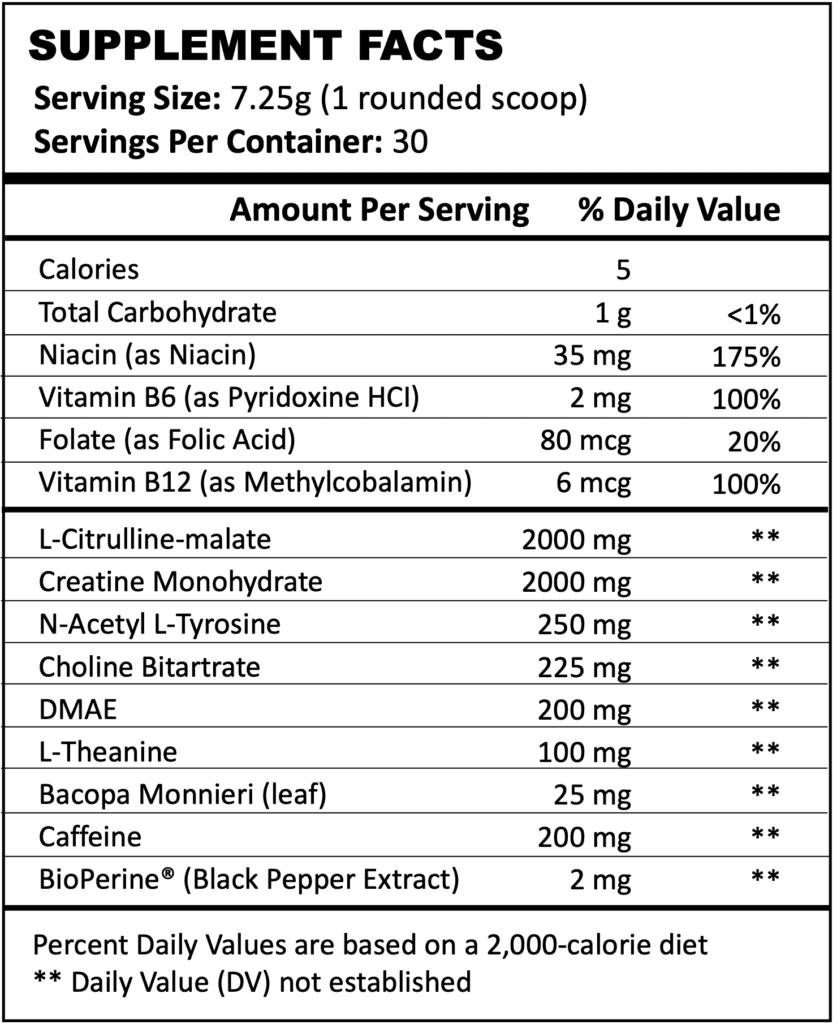 The Ingredients Breakdown In NITROvit™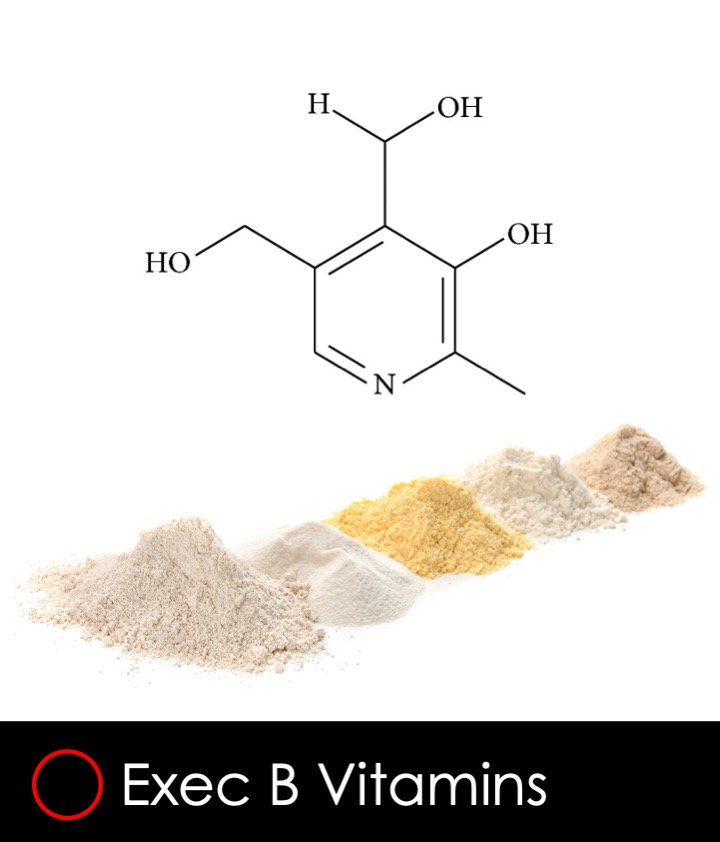 The NITROvit™ B Vitamin stack helps convert food into Glucose, which the body and brain uses for fuel.
B6, B9, and B12 are essential for the production of neurotransmitters that transmit signals in the brain along with the regulation of mood and sleep through Serotonin production. Exec B's improve cardiovascular health by reducing homocysteine.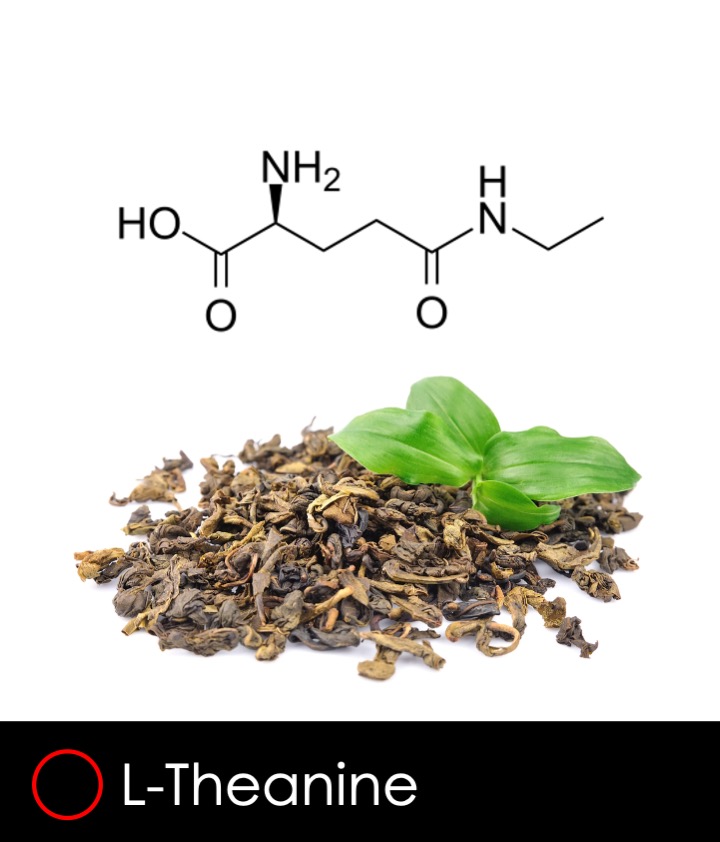 L-Theanine is an amino acid shown to promote relaxation, reduce stress and anxiety, by promoting the production of Dopamine, Serotonin, and GABA.
Studies show L-Theanine supplementation improves mental clarity by increasing Alpha waves in the brain, which are associated with relaxed and focused mental states.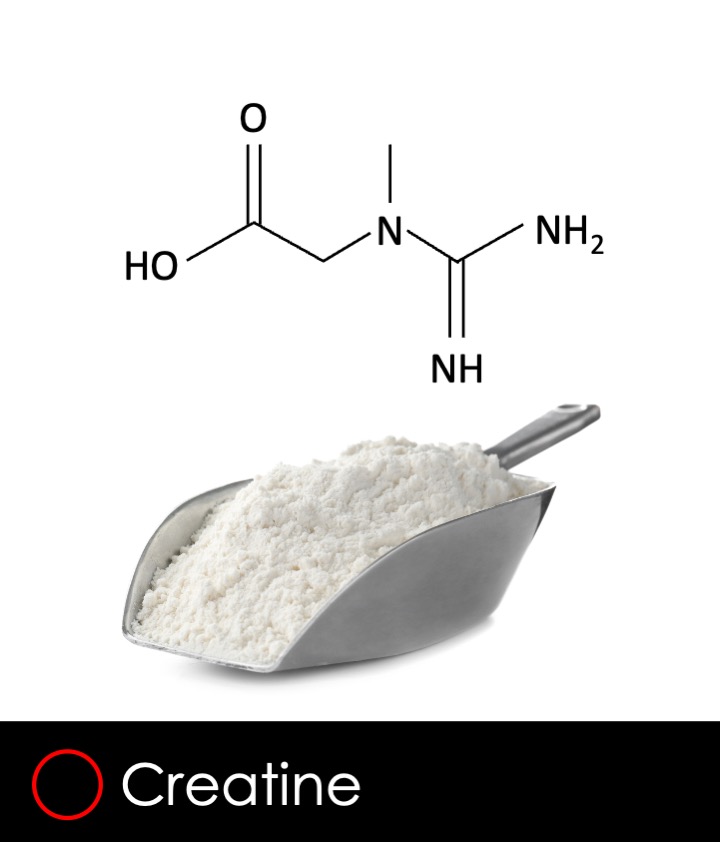 Creatine plays a crucial role in supplying energy to muscles during physical activity and enhances athletic performance whilst helping to build muscle mass and strength.
Creatine supplementation has shown in studies to improve endurance by delaying the onset of fatigue, and improve short-term memory and cognitive processing speed.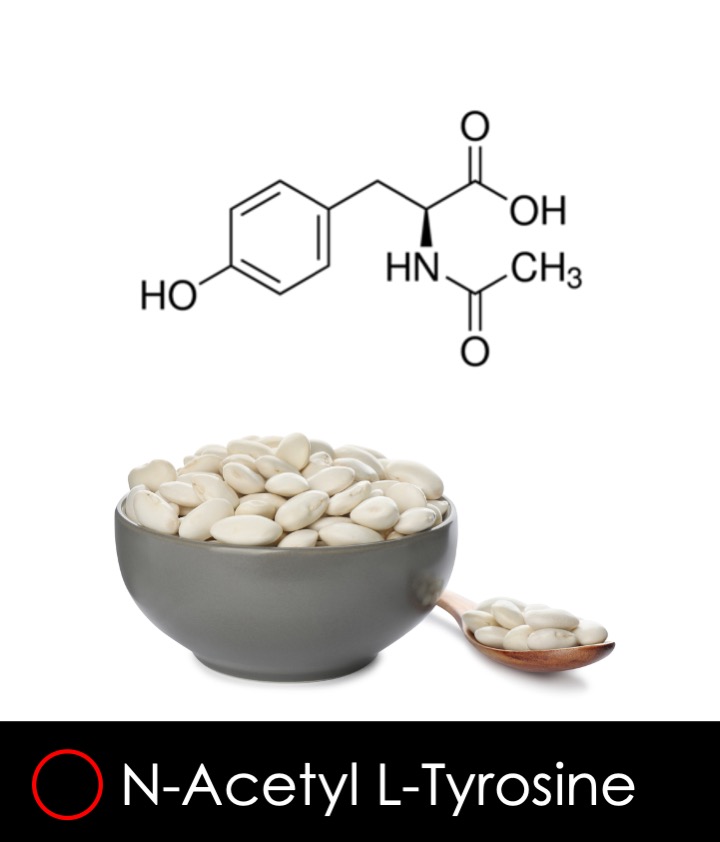 N-Acetyl L-Tyrosine is included in the NITROvit™ formula due to its ability to aid people with Attention Deficit issues.
It does so by increasing levels of Dopamine and Norepinephrine in the prefrontal cortex part of the brain to lift attention, motivation, and reward, and stimulate alertness and mental arousal.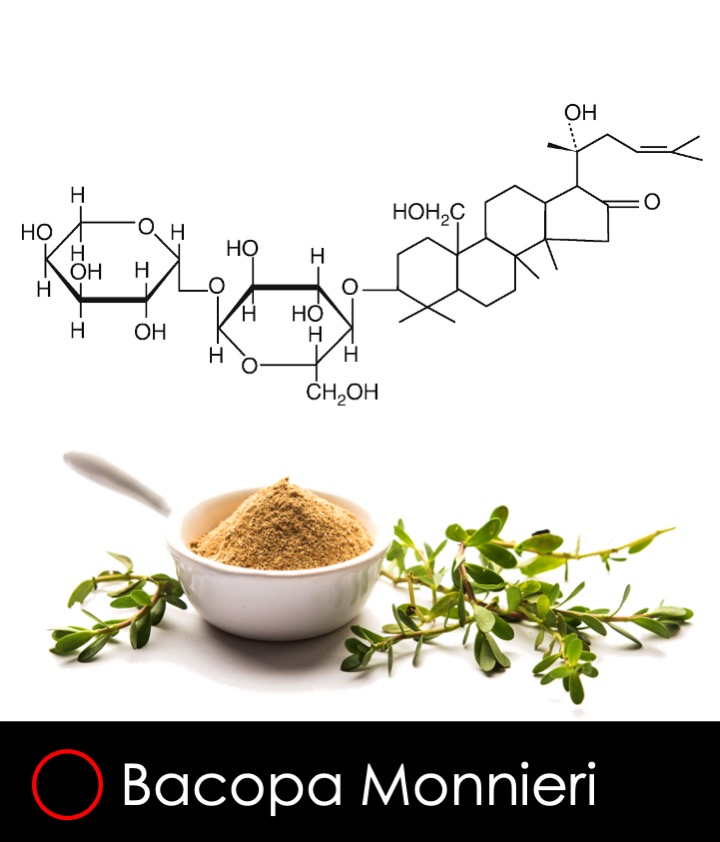 This Ayurvedic herb has been used for centuries as a means to improve numerous memory functions, focus levels, and information processing speed.
Bacopa has antioxidant properties that help protect the brain from oxidative stress and inflammation – a major cause of brain fog and cognitive decline.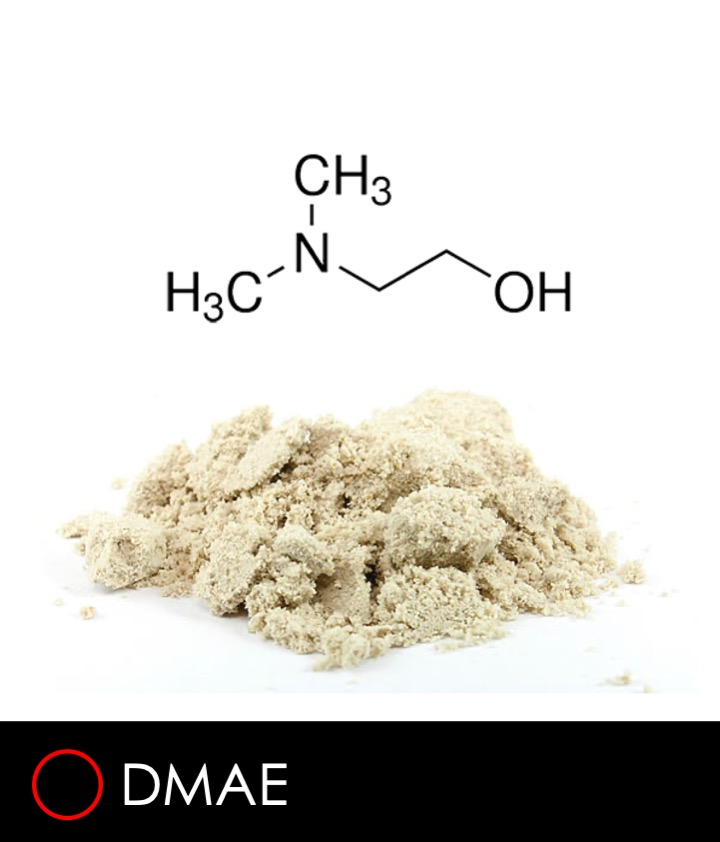 If you struggle to take onboard new information, or are revising for exams or learning a new skill or language, DMAE is the ace up your sleeve.
DMAE aids your ability to learn and remember by increasing production of the Acetylcholine Neurotransmitter for better memory formation and faster, more complete memory recall.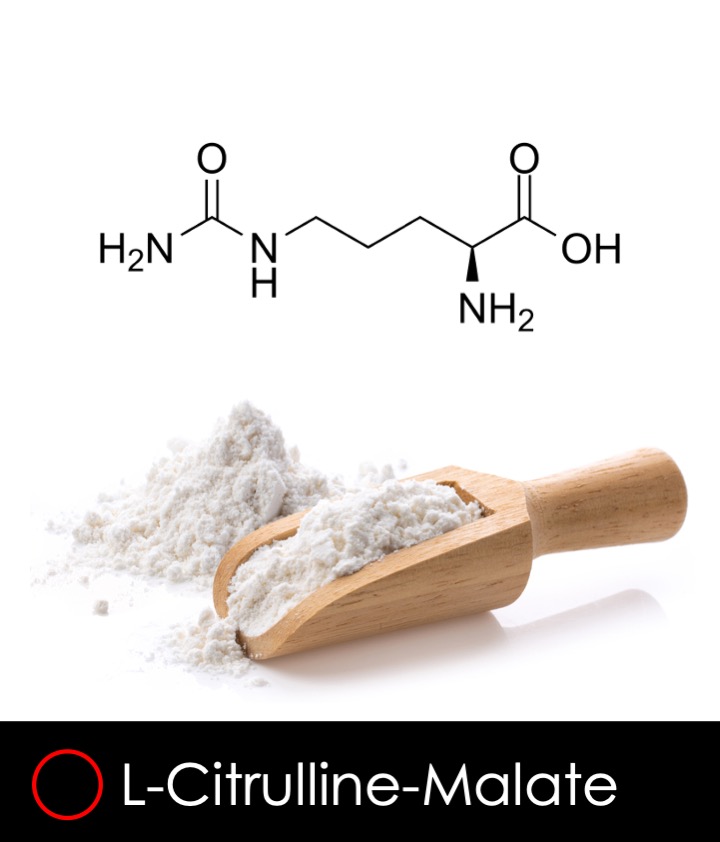 L-Citrulline Malate is commonly used to improve physical performance, reduce muscle fatigue and aches, and improve recovery after exercise or physical stress and exertion.
L-Citrulline boosts Nitric Oxide production to widen the blood vessels for improve circulation. This in turn improves the vital delivery of oxygen to the brain and muscles.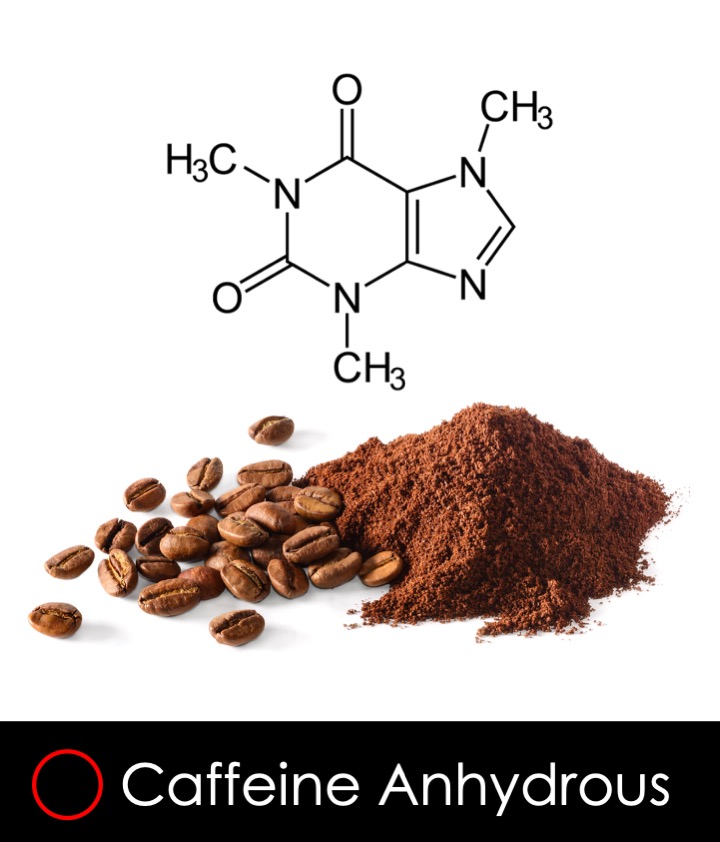 Whilst Caffeine needs no introduction, it is worth noting that its pairing with the L-Theanine in NITROvit™ makes for an entirely new sensory experience.
The Caffeine/L-Theanine combo (referred to as 'Smart Caffeine') eradicates the jitters and crash usually experienced, resulting in a slow and smooth energy release.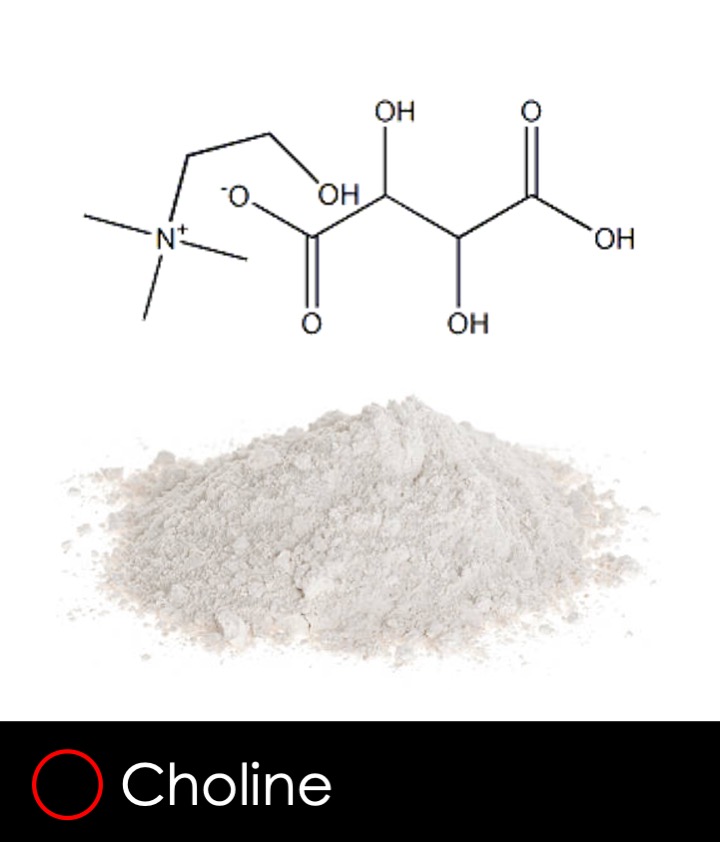 Since 2014, Choline has been the backbone of the NITROvit™ formula.
From fat metabolism and liver protection, to DNA synthesis and memory formation and recall – Choline does it all.
Its inclusion in NITROvit™ aids mental clarity, cell health, and protection against age-related illness.
Make You The Best Project You Ever Work On And Buy Now!
With 9-years of results, a community of loyal customers, and your investment fully protected by our 1-year money back guarantee, the only issue you'll have with buying NITROvit™ today is that you didn't sooner.
NITROvit™ 6 Month
6 tub Family Pack
FREE US SHIPPING
6 tubs Nootropic powder
Retail: $330.00
You Save: $111.00
Now: $219.00
$36.50 per bottle
($1.17 Per Daily Serving)

NITROvit™ 3 Month
3 tub Quarter Pack
FREE US SHIPPING
3 tubs Nootropic powder
Retail: $165.00
You Save: $46.00
Now: $119.00
$39.67 per bottle
($1.28 Per Daily Serving)

NITROvit™ 30 Day
1 tub Starter Pack
Shipping from: $6.97
1 tub Nootropic powder
Retail: $55.00
You Save: NA
Now: $55.00
$55.00 per bottle
($1.77 Per Daily Serving)

Additional information
| | |
| --- | --- |
| Flavors | Lemonade, Fruit Punch |
| Bundles | 6-Month 6 Tub Family Pack, 3-Month 3 Tub Quarter Pack, 30-Day 1 tub Starter Pack |